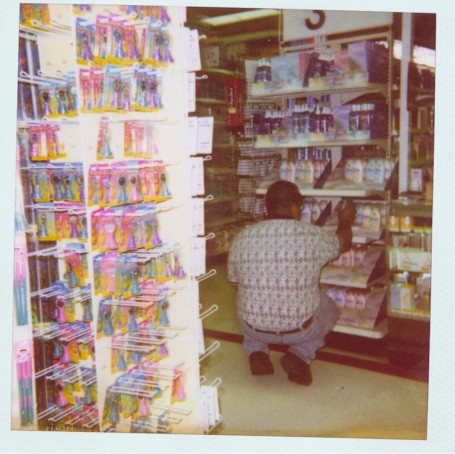 There it is. The picture that started it all. Taken on August 12, 2000 at about 8:30 P.M. The picture depicts Tony Nelson quietly zoning near the Back-to-School section, supposedly as he would say later, watching girls in H.B.A. possibily stealing stuff. It was then that Tim ran in and took the shot. Seconds later, Tim ran out with the picture and Nelson hobbling far behind. Read the full story -->
A larger version of the picture from Matt's site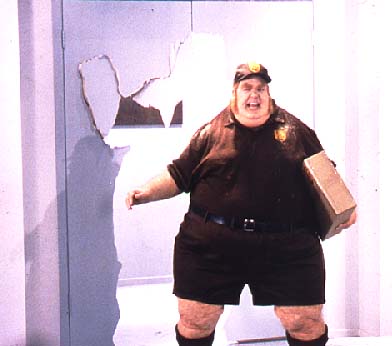 A slight resemblance to a particular assistant manager





In May of 2000, a queer person known only as Tony walked through the doors at Wal-Mart in Delafield, WI to begin his new job as an assistant manager. Over the course of the summer, events would transpire that ended up giving him the title of asshole.

He seemed cool at first, bringing control to the out-of-whack and virtually non-existant security of Wal-Mart. He fired Dave Steffen, Adam Kindred, Black Rob, Tim, Brent, and Matt (illegally) (read the police reports below) both of electronics, for shoplifting. He also caught many little girls stealing .40 worth of makeup. (a real hero). He also was cool for awhile because of the fact that he didnt do any work and he didnt tell me to work. Unfortunetly, Tony degenerated into his old hardass-navy days. By July 2000, he became increasingly ornery. He was on Matt's case for having to many stickers on his namebadge, which is entirely ridiculous bullshit. Tony became a thorn in the side of all that used to be good with Wal-Mart, and on August 12, 2000 the tinderbox met its spark.

I had to work from 11-8pm. I was so unmotivated and bored by 7pm that I asked Tony if I could leave. He said yes. I was doing something later with Matt. Earlier, he came in and told me to come over. Tim came up to the store at 8pm to pick me up and show me where Matt lived. I found out earlier that day that Matt had Iron-On T-shirt transfers. I thought I'd go out to his house and make one of Matt Mullen, the Machine. I did not have a picture of him, however. So, I got my poloroid camera and went into Wal-Mart to get a picture of him.I took 3 pictures of him. I met Amanda and Maria P outside just before, and all seemed to be going well. I came back outside and Tim told meto go in and get a picture of Tony. I told him no way. He then took my camera and went in to find him. He didnt. He said he went into the back. Brent then went in and found him at the service desk. He said "Take that picture and youre fired". Brent came out and gave the camera to Tim who went in and came out running. Seconds later, Tony was running after him. Tim ran past us and down to ACE. Matt Mason, I, and Brent were standing up by my car in the parking lot. He came over to us and asked who that was. Mason told him everything and Tony went back inside. He asked us where he went. We didnt know. When he was walking back in, Mason asked, Any problem with us Tony? He replied- "Only that you were with him". He said "Well, im going back inside and calling the cops". He went inside. Tim emerged from the bushes and we went to Matt's house in Ixonia.

Things settled down a little as we told matt b the story. We immediately scanned in the picture so we would have a record of it no matter what happened. Later that night, my mom called and told me that she had recieved a disturbing phone call from a Tony, who threatened to fire me if I did not return the picture that I did not have.The next day, I had to work. I was prepared for the worst. Tony was not there however. I did not see him until the following Wednesday, and he said nothing to me. Brent's dad was also called that night by Tony, who threatened to tow Brent's car. Matt was actually fired by Tony illegally, who later was re-instated by store manager Mike after his business seminar. Wal-Mart still owes him $40 over that. Tim eventually got a ticket for the incident, which was reduced to basically nothing. Tim also was never eligible to be rehired because of Tony, however, he successfully got a job with Wal-Mart again. Brent was fired later on due to an unrelated incident. Within two weeks of the incident, Tony Nelson was reassigned to the Beaver Dam store and has never been seen around here again. It is beleived that no other member of management was involved with this whole debacle, which shows just how ridiculous the whole incident was.




---------------POLICE REPORTS---------------------

Dave Steffen's Firing at the hands of Tony Nelson:
Employee cited for shoplifting

A Merton teen was taken into custody after stealing from his workplace Wednesday evening.

According to the report, David Steffen, 28362 W. Huntington, Merton, took property valued at $17.37 from Wal-Mart, 2863 Heritage Drive.

Delafield police cited Steffen with retail theft in an amount less than $500 and released him.
_________________________________________________
Adam Kindred's Firing at the hands of Tony Nelson:
Employee caught shoplifting

A Wal-Mart employee was cited for theft of $111.76 of property, a police report said.

Adam Kindred, 18, of N34 W23875 Grace Ave., Pewaukee, was caught shoplifting by a loss prevention worker at about 6 p.m. July 13 2000. He was in the act of putting two compact discs in his right cargo pants pocket while working in the electronics department, the report said.

Kindred admitted to taking several other items found missing over the past two weeks, including three other CDs and a Nintendo-64 video game, according to the report.

He was cited for theft and removed from the property.
_____________________________________________________
Girls Stealing makeup (the hero that is Tony Nelson):
In another police report, three teens were cited for shoplifting from Wal-Mart July 17 2000.

According to the report, a store employee witnessed the teens take several items and walk from the store at about 4:45 p.m. without paying for them.

Cited for retail theft was a 14-year-old town of Merton girl who attempted to steal a wallet, two pairs of sunglasses, and various cosmetics.

The items had a total value of $51.19. That girl was also cited for possession of tobacco products by a minor.

A 16-year-old Hartland girl was cited for retail theft for attempting to take hair clips, a personalized stamp and a wallet. Those items had a total value of $8.31.

A 15-year-old Hartland girl received the same citation for attempting to steal $1.36 worth of make-up.
_______________________________________________________
More girls
Shoplifters nabbed

Two girls were cited for shoplifting from Wal-Mart July 25.

According to the report, a village of Pewaukee girl and a city of Pewaukee girl, both 16, were detained by store security after a theft attempt at about 7:25 p.m.

Both were cited for retail theft.

No other details were available.

ALL EXCERPTS ARE FROM THE LAKE COUNTRY REPORTER. SEE OUR DISCLAIMER FOR MORE INFORMATION.